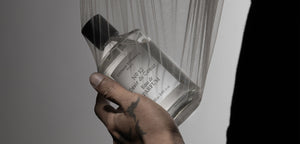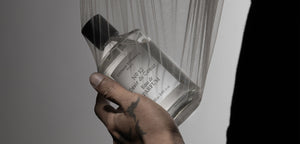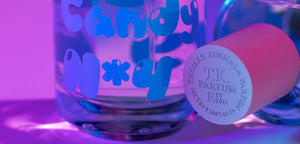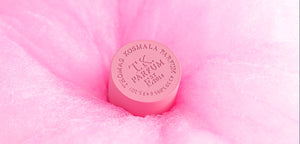 London - Dubai - New York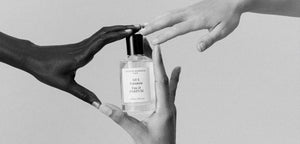 THE ALCHEMY OF SCENT is Thomas Kosmala. His life journey as a perfumer began when he arrived in Paris to study the art of classical perfumery. There he discovered the emotive potency of blending raw perfume materials into wondrous new combinations. These fragrances deftly balance tradition and innovation. Created and refined in his independent laboratory. The collections celebrate Thomas's gift for reimagining classic raw ingredients to attain evocative contemporary scent profiles.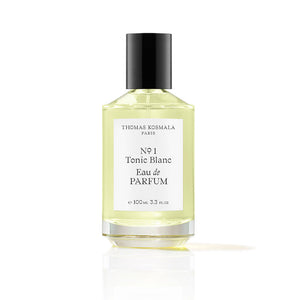 No. 1— Tonic Blanc
100 ML 3.3 FL.OZ
Fresh and easy like a Sunday morning, this stripped-down scent is dominated by uplifting neroli. The fragrance deepens to a woody dryness, recalling the simple joys of ambling through the streets of the south of France at sunset, clad in linen, and infinitely comfortable in your own skin.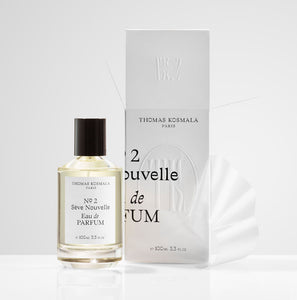 No. 2— Sève Nouvelle
100 ML 3.3 FL.OZ
Creative energy abounds in this sophisticated spicy scent, spiked with pink pepper, and elevated by grapefruit and saffron. A raspberry note—modern and meditative—simultaneously lightens the fragrance and adds depth, an olfactory conjuring of a Balinese temple at dawn.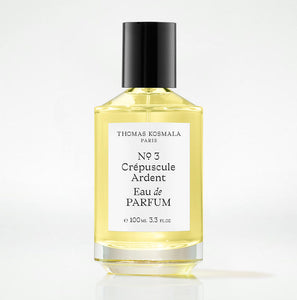 No. 3— Crépuscule Ardent
100 ML 3.3 FL.OZ
This beguiling blend of leather, floral and spice notes will make you feel extroverted and irresistible. The fragrance opens with a powerful saffron and jasmine burst before surrendering to dominant notes of amber and soft suede.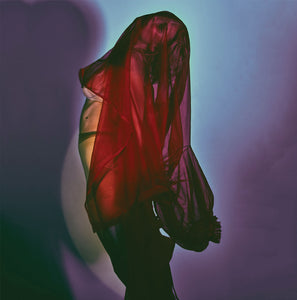 No. 4— Après l'Amour
100 ML 3.3 FL.OZ
This nuanced, multi-layered scent captures the erotic energy and languorous mood of skin meeting skin. Bitter orange and lemon zest add zip to the top notes before cooling down to a base of wood, musk and amber.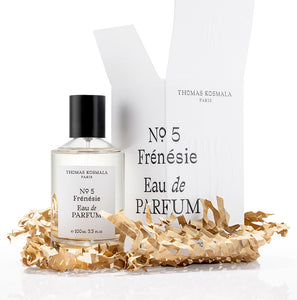 No. 5— Frénésie
100 ML 3.3 FL.OZ
Bursting with positivity, this happy-go-lucky fragrance is deftly balanced between fresh, floral and soft sophistication.
Peony and osmanthus dance between fresh musk and dry woody notes, making for a fragrance that is guaranteed to invoke joy and jubilation; and can be worn all day, every day.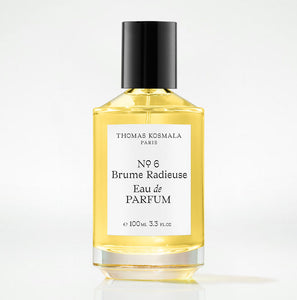 No. 6— Brume Radieuse
100 ML 3.3 FL.OZ
A diligently balanced modern scent that is unbounded by traditional interpretations. This fragrance brings harmony between heavy smokey notes, soft sensual facets and subtle fruity tones. Tinged with erotic energy, it evokes imagery of a resinous evening glow; certain to turn heads and garner intrigued compliments.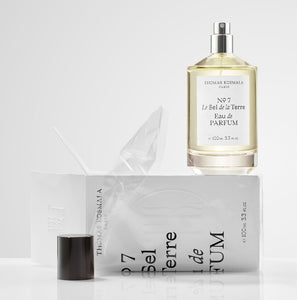 No. 7— Le Sel de la Terre
100 ML 3.3 FL.OZ
Salty and lemony on top, woody and musk notes below: Le Sel de la Terre invigorates without overpowering the senses. Agua and floral notes strike a perfect balance between the fruity and earthy highlights, making for an elegant scent that can be worn anytime, anywhere.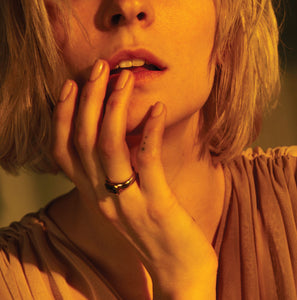 No. 8— Tonic Vert
100 ML 3.3 FL.OZ
Bristling with the natural energy of crushed fruit leaves, mint, vetiver and oak moss, this quietly bracing fragrance revitalises your mood and perceptions. Like a walk through an orchard in full blossom, Tonic Vert enlivens the air with subtle notes of citrus, geranium, pomelo and bergamot.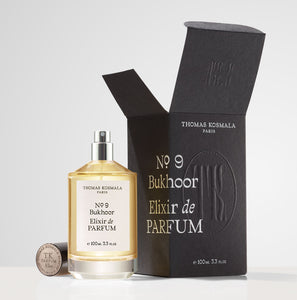 No. 9— Bukhoor
100 ML 3.3 FL.OZ
The Arabic name given to scented woodchips that have been soaked in natural ingredients, Bukhoor is burned in charcoal or incense burners to fill the house with a fragrant aroma. It is used for special occasions, relaxation and tranquillity, or to boost positive energy.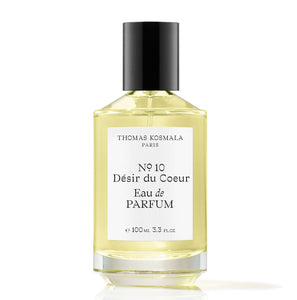 No. 10— Désir du Coeur
100 ML 3.3 FL.OZ
Unravel the desires of the heart. A modern, artistic outlook on fragrance, unlike traditional mixing techniques. The combination of captives and molecules creates a unique and distinguishable scent specific to the individual.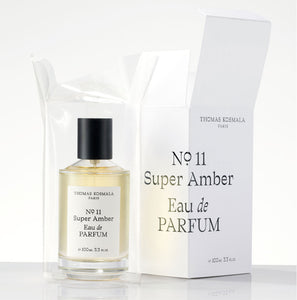 No. 11— Super Amber
100 ML 3.3 FL.OZ
Dry woods and soft musk combine in a sensual mist. No.11 Super Amber is never overpowering, but seldom unnoticed. Perfect for any occasion, when worn alone - sweet incense lingers with a powdery softness; while layered - its molecular composition helps to enhance other facets. Perfect for any occasion, it evokes the comforting soft feel of skin wrapped in cashmere, bathing in the light of a candle-lit dinner.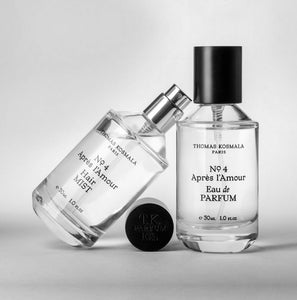 No. 4— Après l'Amour Travel Kit
Eau de PARFUM & Hair MIST
30 ML 1.0 FL.OZ
Top Notes
Bitter Orange, Lemon Zest

Middle Notes
Aromatic, Fresh Spicy

Base Notes
Dry Wood, Amber, Musk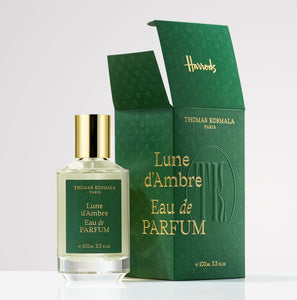 Lune d'Ambre
100 ML 3.3 FL.OZ
Our first Harrods' exclusive fragrance - inspired by the extravagance of what it is dedicated to. This sophisticated blend perfectly balances what are often considered some of the most luxurious olfactive ingredients. Raspberry and bergamot add freshness to a rich saffron top, while sweet vanilla and high-quality rose oil perfectly round out the middle. All these gems sit atop a heavy opulent base of oud, patchouli and of course, ambergris.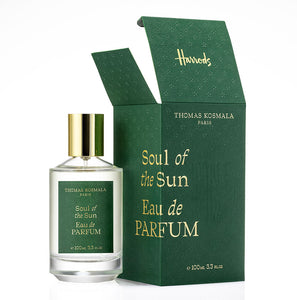 Soul of the Sun
100 ML 3.3 FL.OZ
Transport yourself to a sun-kissed land. Top notes of Bergamot and Frangipani open with a welcomed freshness like a cool breeze on a summer's day. The middle is a tropical cocktail of sweet melon and pineapple with other exotic fruits - giving it an undeniably juicy feel. The base notes however, ensure what can be guaranteed from a Harrods exclusive: Luxury. Amber, dry wood and musk ensure sophistication and class; wrapping this playful fragrance in an air of opulence.